Hey guys! Today is the second and final part of my Hair Product guide, and in this part I'm going to discuss the second group of hair products: Creams. Creams do a lot of the same things as sprays, but often have a stronger affect but are also heavier on your hair.
The most common cream is the traditional hair gel. Hair gel is like the hairspray of this category, and for good reason. Hair gel varies from a light hold to an ultra-strong hold that keeps your hair hard but in place all day. It is mainly used to shape your hair how you want it as well as hold your style, but it can be used to scrunch your hair, add volume, and smooth frizz. I love using gel when I have my hair in a ponytail or a bun to smooth back the hair so that the frizz dies down. My favorite hair gel is L'oreal's Studio Line Strong Hold Clean Gel.
Mousse is another really neat product. Mousse has a really light, airy feel and works beautifully. Mousse is better for scrunching than gel, especially if you want a really textured look. Its generally used for curlier styles rather than straight, but can grow a bit stiff if you use a lot. My favorite mousse is Garnier Fructis's Curl Construct Mousse, and I use it all the time for scrunching.
Next up is wax. I really don't use wax because it's mainly just a stronger version of mousse. I don't really need that strong of a hold on my hair, but many people love it. Hair wax is known for not becoming stiff after a while, unlike mousse. It's a lot like pomade, which adds more of a shine to your hair but is more greasy and can be difficult to wash out. Wax can also be known as putty, glue, whip, molding gum, or styling paste. L'oreal makes a Studio Line Hair Putty that's really popular right now.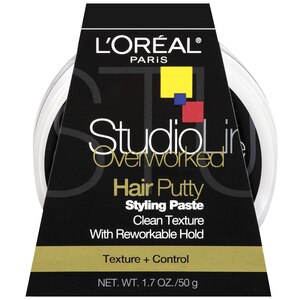 Well, I hope I've given you a little insight on the wide world of hair products with this mini-series, and if you missed the first part on the different types of sprays, make sure to check out out that post
here
!